Food Summit Conferences Readership Profiles: Key Metrics (Source: Google Analytics)
A statistical representation of global users for foodsummit.foodtechconferences.org(Source: Google Analytics)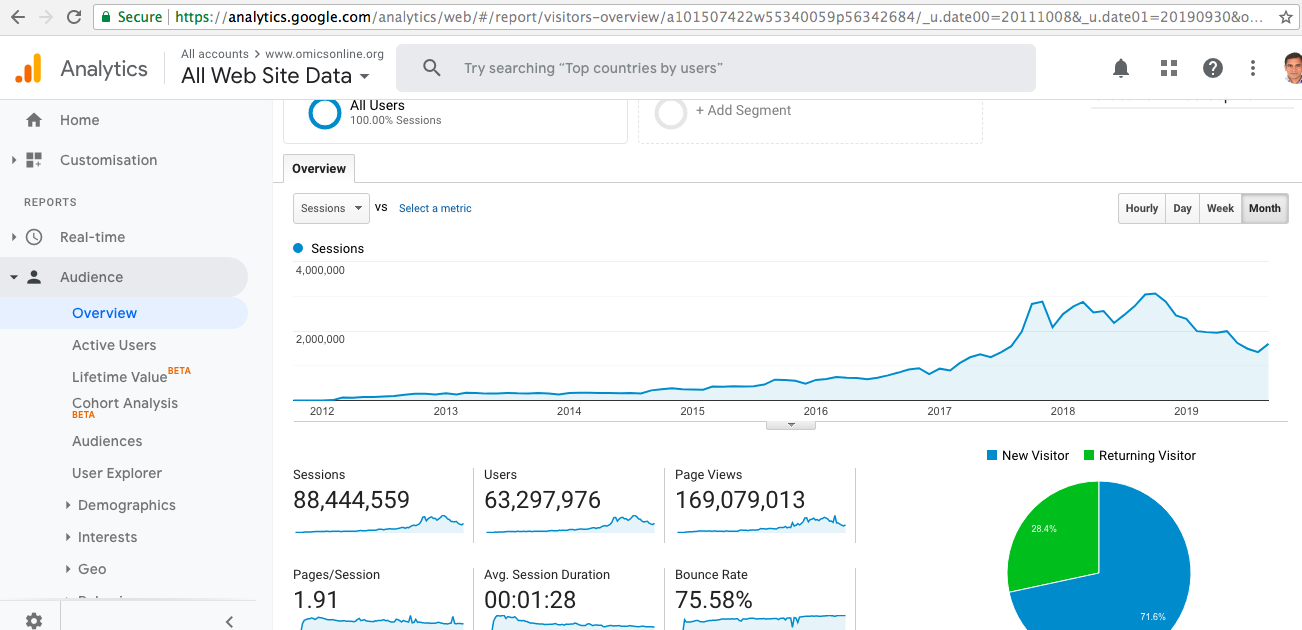 At conferences, you will hear from leaders in the field of food and nutrition who have navigated many of the challenges you do in your everyday life. They have successfully overcome some of the obstacles you face and are willing to share the experience and the result with you. Conferences spark lights into your unanswered questions and renew excitement about your research. They often help you solve problems that you couldn't figure out on your own. You can also network with other like-minded individuals who are willing to share their own history and research. Make sure you effectively plan ahead for your next conference.
Nutrition and life sciences 2020 is planned to offer a prominent meeting where the experts in the field of food and nutrition discuss about the latest research and challenges which they face. Food summit 2020 is planned to provide a special platform for Dieticians, Nutritionists, health-care professionals, Researchers and Students working in the field to consciously, exchange visions and their understandings in front of large intercontinental listeners. This Nutrition Congress or other Nutrition events can facilitate in important discussions with totally different people who learn nutrition and life science throughout the planet, B2B construction between specialists and academicians. The companies handling process merchandise and supplements will exhibit their merchandise within the exhibition. Conferenceseries LLC Ltd believes that 2nd Global Summit on Food and Nutrition can offer an opportunity for discussions on the topic food, nutrition and life science connected issues and challenges in the field of nutrition and food science. It will also help in sponsoring mindfulness and help in undertaking one of the perilous problems of mankind.
Conference Series LLC Ltd is proud to announce the commencement of the 2nd Global Summit on Food and Nutrition, which is going to be held during August 24-25, 2020 at Prague, Czech Republic. This Food and Nutrition expo will be mainly focussed on the topic "Analysing the effect of modern food choices on humans" Food Summit 2020 will serve as a platform where Clinical Nutritionists, Dieticians, Food experts, Young researchers, Business delegates and students interested in the field of nutrition from universities and research labs. Food and nutrition meetings which bring expert nutrition enthusiasts and associations together believe that the food and nutrition conference and expo 2020 will be helpful in analysing the changes in food habits. We have already organised various food and nutrition meetings which created incredible relations by bringing experts and associations together. Nutrition meetings and Nutrition Events are important as they become a common meeting point for the people from various nationalities. Nutrition and dietetics congress is also important in terms of the measure occurring worldwide.
As organic chemistry and genetics advance every day, Nutrition has become mainly focused on Human metabolism. Nutrition has turned out to be increasingly cantered towards medical conditions and problems which can be prevented with a healthy diet. Nutrition also involves diseases and conditions that could be caused by dietary intake of poor foods.
We have organised various nutrition conferences which created incredible relations with the speakers and delegates, bringing the experts and associations together.
Global Internet users for conferenceseries.com: Statistical representation (Source: Google Analytics)
Flip on the other side Conferenceseries world's leading specialist in organizing scientific conferences, events trade, and consumer exhibitions both domestically and internationally in different verticals and horizontals like Medical, Pharma, Engineering, Science, Technology and Business attracting more than 25 Million+ Visitors, 25000+ unique visitors per conference and 70000+ page views for every individual conference would help in quantifying our presenters research and biography visibility to the online communities and get recognized worldwide.
Conference Series Web Metrics at Glance: Source: Google Analytics
25 Million+ Visitors
25000+ unique visitors per conference
70000+ page views for every individual conference
Out of the 500,000 listing worldwide major conferences attended by 2.5 million attendees 16.8% attendees are drawing only from our Medical, Pharma, Healthcare, Nursing, Engineering, Science, Technology and Business conferences. The main reasons behind the increased popularity of our conference attendees is because of the changing mindsets of academicians, researchers and industries in exploring the opportunities for exchanging ideas, sharing resources, building networks and increase awareness of the on the recent happenings in their research around the world.
"Attending and presenting at conferences remains as the most favorable model of knowledge dissemination for researchers and practitioners to keep abreast of all advances in their field, presenting state-of-the-art research usually on a variety of subjects"
We will continue to set our bar higher and make further progress to organize 1000 conferences in 50 countries across all continents by 2018. We have recently launched online digital video library where all our conference proceedings would be shared and be accessed by the online communities freely.
Channels for driving additional traffic to your research
Web Analytics are best means of measuring concrete details like how many people are visiting our websites, how many of those visitors are the unique visitors and how many of them are staying long to view the complete information available in our sites. The following snapshots of some of our websites will clearly depict the metrics how our conferences stand at par to the other conferences in terms of Visibility, outreach, Participation Number and relevance to their subject.
The metrics of these websites represents more than 25+ Million visitors in addition to this we also equipped with 10 additional scientific websites represents 10+ Million visitors traffic to our conference websites.